Craig Della Penna, Realtor®'s Blog
Every year around this time, we take time to reflect and plan for next year. If you are renting your current home but have dreams of homeownership, your plan for the new year may include buying, and you wouldn't be alone!
According to the 2018 Bank of America Homebuyer Insights Report, 74% of renters plan on buying in the next 5 years, with 38% planning to buy in the next 2 years!
When those same renters were asked why they disliked renting, 52% said that rising rental costs were their top reason, and 42% of renters believe that their rent will rise every year. The full results of the survey can be seen below: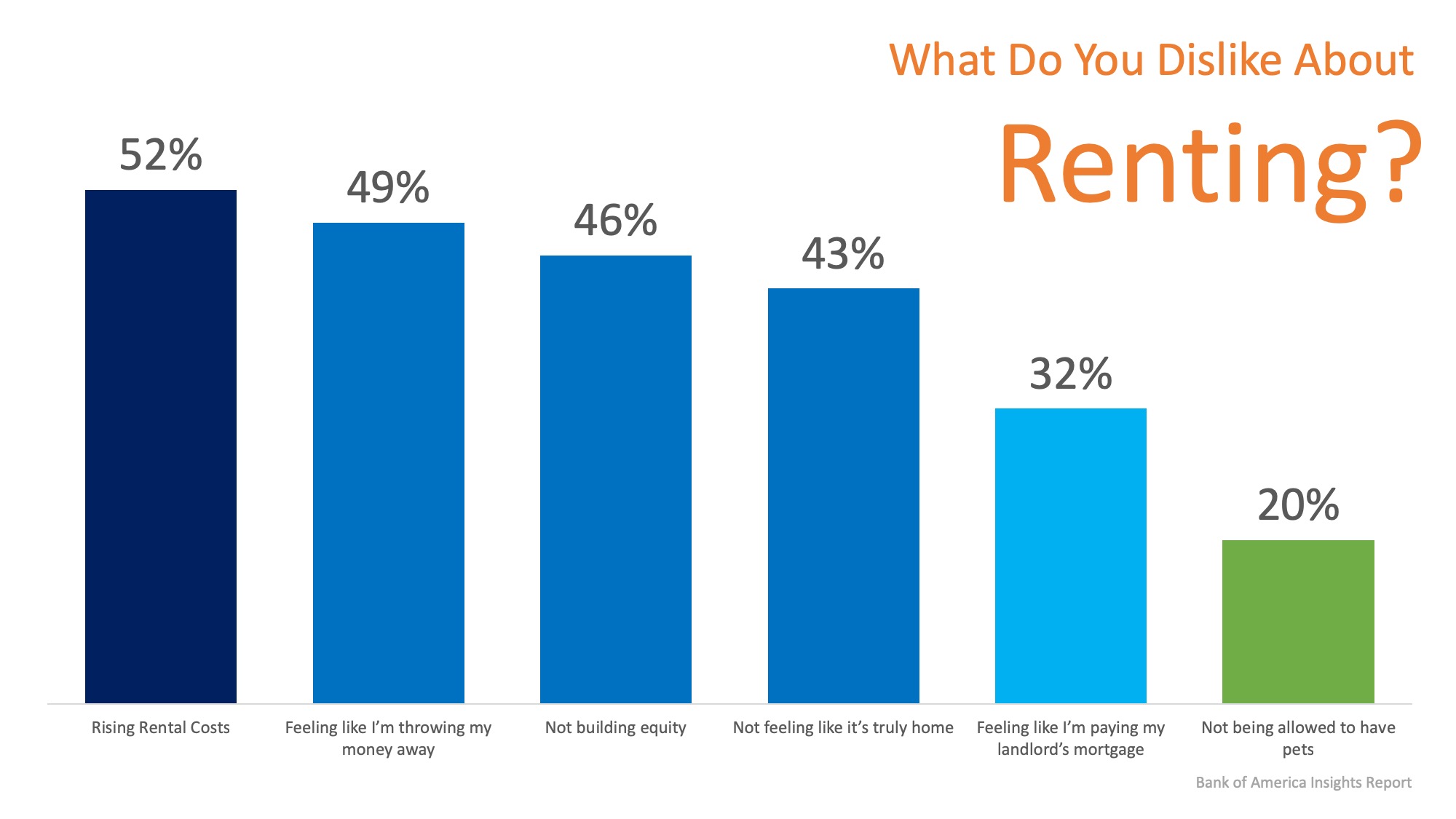 It's no wonder that rising rental costs came in as the top answer! The median asking rent price has risen steadily over the last 30 years, as you can see below!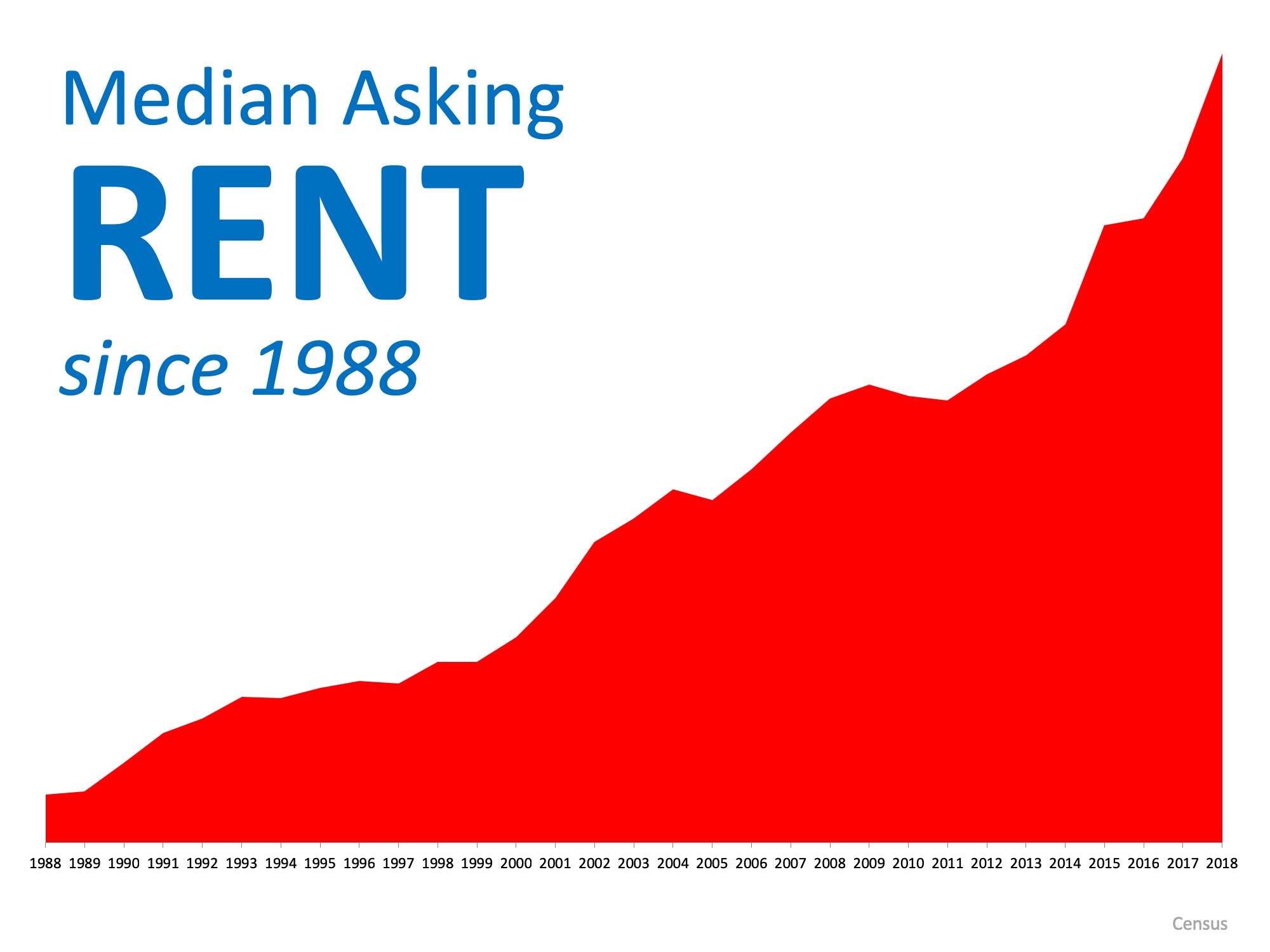 There is a long-standing rule that a household should not spend more than 28% of its income on housing expenses. With nearly half of renters (48%) surveyed already spending more than that, and with their rents likely to rise again… why are they renting?
When asked why they haven't purchased a home yet, not having enough saved for a down payment (44%) came in as the top response. The report went on to reveal that nearly half of all respondents believe that "a 20% down payment is required to buy a home."
If the majority of those who believe they haven't saved a large enough down payment believe that they need 20% down to buy, that means a large number of renters may be able to buy now!
Bottom Line
If you are one of the many renters who is fed up with rising rents but may be confused about what is required to buy in today's market, let's get together to help you on your path to homeownership.
As a homeowner, there are plenty of things to be thankful for! Click to see a short video to see what homeowners are saying.


Are you trying to determine whether or not it's worth it to hire a professional to help you sell your home? Whether you are buying or selling a home, it can be quite the adventure. In this world of instant gratification and internet searches, many sellers think that they can 'For Sale by Owner' or 'FSBO,' but it's not as easy as it may seem. That's why you need an experienced real estate professional to guide you on the path to achieving your ultimate goal! Read more here.
Last week, the National Association of Real Estate Editors (NAREE) held their 52nd Annual Journalism Conference in Las Vegas, NV. Among the many highly anticipated sessions was one called "Top Ten Issues Affecting Real Estate™," given by Joseph Nahas, Jr., Chair of theCounselors of Real Estate & Senior Vice President of Equus Capital Partners. 
The Counselors of Real Estate (CRE) "is an international organization of high profile property professionals which include principals of prominent real estate, financial, legal, and accounting firms as well as recognized leaders of government and academia." 
Their annual "top 10" list spans any and all issues that could have an impact on the real estate market. This year, the list was broken up into "Current" and "Long-Term Issues."
Today we're going to focus on three of the five "Current" issues with a brief explanation of their impacts on the housing market today!
E-Commerce & Logistics
With promises of 2-day shipping no matter where you live, we are benefiting more now than ever before from the speed and ease-of-use of online retailers like Amazon. These e-retailers haven't changed whether or not we buy certain items, but rather HOW we buy them!
Many traditional malls or big-box stores are being repurposed as warehouses or distribution centers for online retailers so that they can get their products out faster.
A Look to the Future: "Developers who are including experiences into their locations are the ones who will succeed. It's about the experience and gaining something over just going to buy a product."
Generational Change & Demographics
By now we've all heard that the millennial generation is the largest yet, just by sheer volume. The largest group of millennials turns 30 years-old in 2020. The average first-time homebuying age is between 30 and 32, depending on marital status. Real estate professionals will be inundated with more and more buyers as the years roll on. Nahas commented on this in his presentation, saying that,
"Too many developers have become dependent on making decisions based on baby boomer's preferences.

The 75 million millennials are coming, and they will influence real estate and commerce even faster than the baby boomers in the 50s and 60s."
Interest Rates & the Economy
The interest rate that you secure for your mortgage is a big factor in your monthly housing cost and in how much you ultimately pay for your home. According to Freddie Mac's Primary Mortgage Market Survey, rates rose to 4.62% on a 30-year fixed rate loan last week.
The Federal Reserve also raised the federal funds rate for the second time this year. If unemployment continues to be at or near record lows, two more hikes are likely to come later this year.
Nahas added,
"Rising rates can be good and bad for the economy. Bad for borrowing money with additional costs, but good to control inflation and help grow the economy at a moderate pace."
Bottom Line
If you are planning on buying and/or selling a home this year, let's get together to help you navigate the conditions in your market and set you up for success.
Starting late last year, some predicted that the 2018 tax changes would cripple the housing market. Headlines warned of the potential for double-digit price depreciation and suggested that buyer demand could drop like a rock. There was even sentiment that homeownership could lose its coveted status as a major component of the American Dream. Read more here.